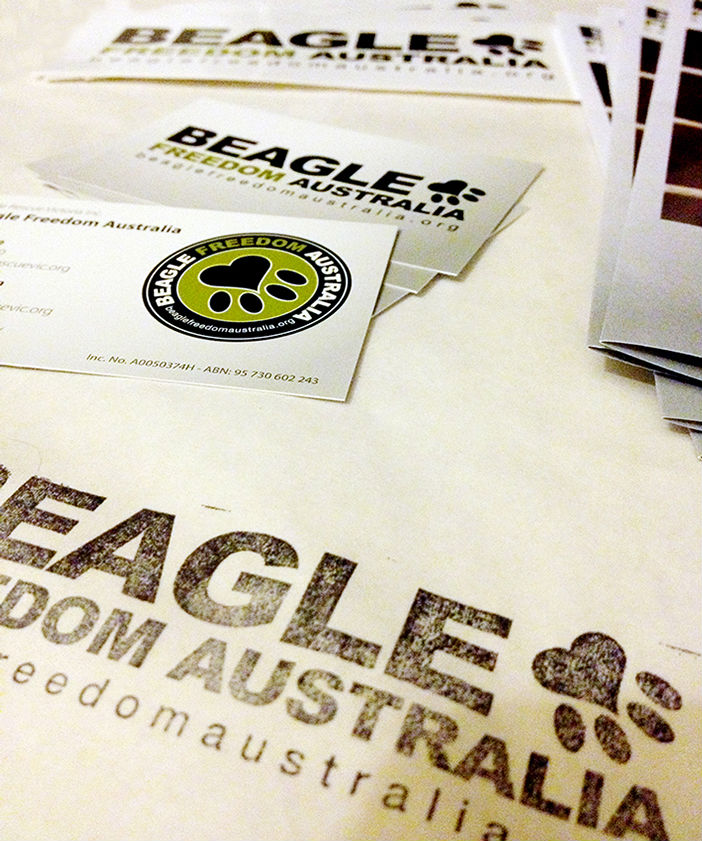 There are many ways of helping out at Beagle Freedom Australia; Adoption is just one way, and is a very big, even life changing commitment. So if you can't adopt, there are many other ways too! Foster Care, Donations and Fundraisers are just a few examples, but possible most importantly is to spread the word and educate your friends, family members and work colleagues about animal testing.
Choose Cruelty Free
When you donate your hard earned money, only donate it to approved, cruelty free charities that do not fund research which includes animal testing, you can find an extensive Australian list here;
When purchasing cosmetics and household products, choose those which have not been tested on animals, you can find a comprehensive list of Australian approved companies and brands here:
Consider a vegan lifestyle. Save hundreds of additional animals every year. Factory farmed animals are as capable of suffering, and as deserving of our compassion, as the pets we love. An easy way to start can be found at veganeasy.org with lots of support and information available.
Foster Care
We desperately need of careers who understand the beagle breed and are willing to open up their homes to those beagles in need, to help them recover or heal from their past lives and to get them ready to live out their years happy and healthy in their new homes. Beagle Freedom Australia will cover all medical costs and cover food for those that need special dietary requirements, all dogs are temperament tested desexed, vaccinated, microchipped, heartworm, flea and worm treated prior to going into foster care. If you are interested in assisting us as a foster carer,
please email us at info@beaglerescuevic.org
Donations
Direct Debit: Bank: Westpac
Name: Beagle Rescue Victoria Inc.
BSB: 033358 • Account: 302346
Post: Mail cheques made payable to 'Beagle Rescue Victoria Inc'.
to P.O. Box 235 Glen Huntly Vic 3165
All donations over $2 are tax deductible
(In order that a receipt may be forwarded, please email
admin@beaglerescuevic.org and advise the amount donated
and your email and postal address)
Goods: We are always in need of the following items, quality dry food, worming and flea treatments, collars, leads, beds, bedding, toys etc. Please email admin@beaglerescuevic.org to arrange collection
You can find out more info by visiting these sites:
www.vivisectioninformation.com
www.crueltyfreeinternational.org